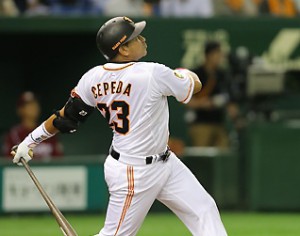 Two great athletes from the Cuban central province of Sancti Spiritus grab headlines in the baseball world: Frederich Cepeda shot his first grand slam in the Nippon Professional Baseball, and Yulieski Gourriel is scheduled to travel today to Japan to start playing with the Yokohama Dena Baystars.
Sancti Spiritus Yulieski Gourriel Joins Frederich Cepeda in Japanese Baseball (+photos)
Japanese Baseball: Cuban Frederich Cepeda Already a Yomiuri Giant (+photos)
Cepeda, who homered for the third time in the NPB, had arrived to May 29 game with only 3 hits in the last 18 at bats. Today, he had started with two struckouts and a walk. However, in the 7th inning, and at a right-handed position, the Cuban outfielder shot a blast to the left with the bases loaded, which helped the team winning the Rakuten Golden Eagles 6-0.
Numbered 23 in the Yomiuri Giants, Frederich got to 10 RBIs in 12 games, with 10 struckouts, 9 walks, and 7 hits in 37 at bats.
The Kyojin currently equaled the Hanshin Tigers' record of 28-23 in the Central League, and are scheduled to play during Saturday and Sunday the Orix Buffaloes, leaders of the Pacific League (32-18).
Yulieski Travels to Japan
Yulieski Gourriel, born to Sancti Spiritus and Industriales Blue Lions' third-baseman, departs today to Japan in order to become the second Cuban active player to be involved in the NPB.
In a recent interview to Julio Batista published in http://www.cubadebate.cu the athlete talks about the challenges he is to face, especially of those concerned with the Asian accurate pitching, the food and language.
Yulieski said he is willing to take advantage of all the chances he might be given, including to play second, third, and even short stop.
He said his family will unite him soon, and that he expects to overcome all obstacles while paving the way for other players to play there in the near future.