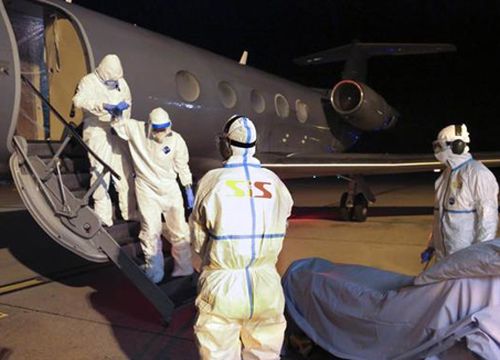 Cuban health collaborator, Felix Baez, infected with Ebola virus in Sierra Leone, is receiving first-level assistance at the University Hospital of Geneva (HUG), in Switzerland, Granma newspaper reported.
In a brief phone contact with the daily, the director of the "Pedro Kouri" Tropical Medicine Institute, Doctor Jorge Perez, stated from Geneva that the Cuban physician "is being well assisted."
Ebola Infected Doctor Reported in Stable Conditions
Trinidad Nurse in The Time of Ebola (+photos)
He said the HUG, an institution specialized in the management of highly-transmissible infections, is responsible for disseminating information about the evolution of his health and a new report is expected on Tuesday.
Baez, a specialist in Internal Medicine, member of the "Henry Reeve" International Medical Contingent that is working in Sierra Leone confronting Ebola epidemic, was sent to the Swiss hospital at a proposal of the World Health Organization (WHO) after being detected him the disease last week.
During a recent news conference, HUG director Bertrand Levrat stated that about nine nurses are directly assisting Baez 24 hours a day, and there are also three physicians permanently with him. In short, there are "dozens of people" from different disciplines dedicated to him.
The chief medical officer of the Intensive Care Unit at the HUG, Jerome Pugin, recently explained that the patient is being treated with two experimental medicines that have had favorable results in other Ebola patients.
The first one is a medicine with anti-bodies very similar to Z-Mapp, a Canadian treatment to fight Ebola. The second one is a Japanese antiviral drug.
In face of the progress of the current epidemic of the virus, WHO approved in August this year the use of experimental treatments to heal Ebola.
Another variant according to the development of the case is to introduce the treatment with serum, obtained from patients who have overcome the disease, medical sources state.