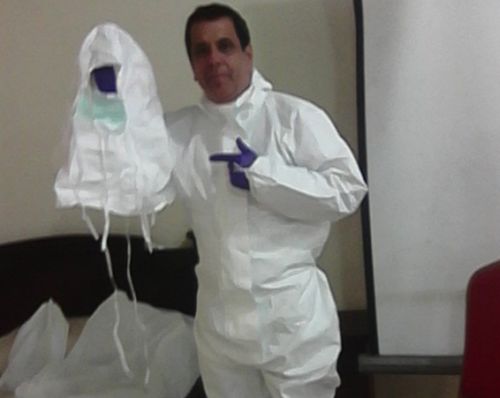 "Are you nuts? Those who go there don't come back". This was how he was openly addressed in the street as soon as people knew he would leave for Sierra Leone, to fight Ebola. But, when you hold firm convictions, nothing matters.
He completed his military service in Angola, in the 90s, where he had to assist the wounded during the war. He also went to Haiti, as member of the Henry Reeves Medical Brigade, and fulfilled a few other internationalist missions, as well.  Nevertheless, Francisco Gonzalo Prada Morales (Panchi), from Trinidad, central Cuba, decided to do it again, and joined the first group of Cuban health cooperators who flew on October 1st.
Ebola Infected Doctor Reported in Stable Conditions
"Let's not call this decision an 'adventure'. It's indeed an instinct that grows together with the years spent in the profession. It's the opportunity to know that you can help others, no matter who or where". These were the first words that the over-three-decades nurse graduate said to me during our e-mail conversation.
Almost two months after his departure, Pachi remembers the night he got on the plain. "When I saw Raul standing next to the stairs to see us off, my hand shook. That moment reminded me of Fidel, because he would have liked to accompany his brother. 'Say hi to the Commander for me', it was the only phrase I could say. When the plane took off, the memory of my wife, my daughter, my mother, and my sister came into my mind…and also the desire that they feel proud of me when I will hug them again".
On our second day in Freetown, capital city of Western Africa, the training began. "They were intense days in which the doctors and the personnel of WHO gave lectures about the major symptoms of the disease, how to avoid its transmission, the procedures to improve patient care, and how to handle the personal protection suit, most especially when taking it off".
Then he arrived in Kerry Town Hospital, which is sponsored by the English organization Save the Children. The facility has six wards, each one assisted by two nurses and one doctor in eight-hour shifts.
November 6th, 2014: "Brother, we already met with Ebola today. We've only seen 10 confirmed cases, but that's enough to get impressed, especially with the children, because their response to the disease is almost non-existent.  Since they don't have enough antibodies, and are poorly fed, they get to the hospital in very bad conditions.
When you see that, you feel impotent for being unable to do more, because we are not used to see children die. Carlos, it would be great if people could see this, so they could realize how privileged are the children in Cuba. Here the means to fight the disease are the best, but we put the rest: the heart and the experience. You will see how the amount of cases will be reduced. I guarantee that".
It's been almost a month since then, and patients continue to arrive, whether confirmed or not, referred from other hospitals. But the fact of dealing with child death still tortures him.
Don't you fear for your own life?
"That is inevitable, like in any other mission. It's not only because of Ebola, but also because of malaria, cholera, tuberculosis…, but experience tells you that as long as you know the disease, you can face it. A scientist once said: 'Those who have the privilege to know, have the duty to act'. The fact of being here, besides allowing us to help out, is a way to prevent the virus from reaching other countries".
Miles away, in Trinidad, Pachi's wife, Janetzky Fernández Martínez, feels proud. "People might think that he neglects his family, not at all. Many persons told me that if you love your husband, you don't let him be at risk. Someone even dared to ask me about his return, 'in case he did'. These people don't see facts from the humanitarian point of view. I'm afraid, of course, but my husband is very responsible in his job".
Every day, while he safeguards his life with the white suit that keeps him protected against Ebola, the nurse whispers some verses sent to him by a friend. On the other side of the world, his wife is confident about the future, because Pachi has never failed to fulfill his promises, and before leaving, he promised me he would come back".