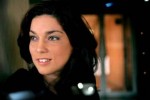 Soprano Barbara Llanes will offer two concerts in the French city of Enghien-les-Bains, neighboring this capital, where she will perform songs of the best Cuban composers from early and mid 20th century.
Accompanied by pianist Rolando Luna, Llanes will sing pieces by Ernesto Lecuona, Gonzalo Roig, Eliseo and Emilio Grenet, as well as versions by Sindo Garay, among others.
Interviewed by Prensa Latina, Llanes said this is an attractive program where traditional trova songs will be mixed with the most erudite composers of her country.
They are classic works, icons of our musical culture," said the singer, who stated the importance of expanding this heritage to other parts of the planet.
Lyric song is in splendid moment in Cuba, because it is an alive music and the idea of this concert, along with Luna, is to give it a more contemporary form, she said.
After two performances at the Enghien-les-Bains, organized by Cuban producer Carmen Mayans and French Dominique Rolland, Barbara Llanes will give a concert next week at the Cuban embassy in this capital.