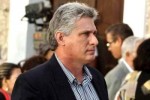 Cuban First Vice President Miguel Diaz-Canel is in Santiago de Chile, leading his country's delegation for the inauguration of Michelle Bachelet as president of Chile.
The Cuban delegation also comprises Deputy Foreign Minister Rogelio Sierra.
Bachelet's inauguration will take place at the headquarters of the Chilean Congress, in Valparaiso, some 110 kilometers of this capital.
The president-elect will receive the presidential sash from Isabel Allende, new leader of the Senate.
After winning the Dec. 15 elections with 62.16 percent of votes, Bachelet will assume the presidency for the second time in this country.