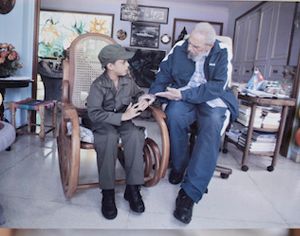 Marlon Mendez when talking with the historic leader of the Cuban Revolution.
Eight-year-old Marlon Mendez, who has an extensive collection of photos of the historic leader of the Cuban Revolution, Fidel Castro, finally fulfilled his dream of meeting him in person.
Mendez started his collection when he was three years old, and always longed to have a picture taken with Fidel Castro, to greet and to talk with the leader, Cuban television reported.
Mendez said that after an interview with the television about his singular collection and his interest for the history of the Revolution, he received a call to spend some time with the revolutionary leader.
The boy said he took his book "La victoria estrategica" (The Strategic Victory) to the meeting. The leader wrote a dedication and signed the book, while the two of them talked about school and agriculture.