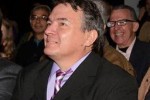 The Cuban Council of State, at the suggestion of its president, has agreed to release Rafael Bernal as Minister of Culture, replacing him with Julian Gonzalez, current deputy minister within the ministry.
The note published today by Granma newspaper noted that Maria Elena Salgado was appointed Vice Minister, having developed important responsibilities within the Ministry of Culture during her 24 years of work experience.
Gonzalez, 52, has held various responsibilities within the cultural sector where he has served for more than 20 years, according to Granma.