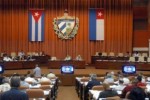 Cuban legislators are meeting today, first in commissions and later in plenary session, to complete preparation for the final discussion on the project of a new Foreign Investment Law.
The permanent commisions for Constitutional and Judiciary Affairs and Economic Affairs present and agree in the morning the report on the legislation, and will meet in plenary session in the afternoon for being informed about the result of the analysis of statements carried out in five previous territorial meetings.
Before discussing the project in the Legislative on Saturday, March 29, the bill was debated in those meetings, in which some 47 statements were carried out to clarify doubts and concerns, as well as seven other initiatives included in the final project were presented.
The Parliament's special session scheduled for tomorrow in this capital will be based on many concerns expressed by its members, to achieve a Foreign Investment Law that allow accede to finance, technologies, and markets that impede the island's economic development.
Experts from more than 20 national agencies and institutions participated in the preparation of the draft and the final proposal, in addition of having a diagnosis as a base and experiences in foreign investment until 2010, together with the study of international standards on the matter.
Its essential foundation is the updating of the Cuban economic model, ruled by the Economic and Social Policy Guideline of the Cuban Communist Party, and its pretention is to correct deficiencies and gaps of Act 77 of 1995, still in force for foreign investment.
Top protection and security for investers, tax benefits and above all special attention to environmental care, and rational use of patrimonial natural resources, characterize the text.
It also establishes unrestricted respect to the country's sovereignty and independence for any investment in all sectors, except in health and education services, armed institutions, and business system.
As in the previous legislation, that to be adopted establishes international economic association contracts in patterns of risk contacts for exploration of nonrenewable natural resources, construction, agricultural production, hotel management, managerial production or services.