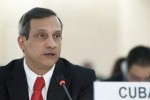 Cuba condemned before the UN General Assembly the intervention of the United States and NATO in Ukrainian internal affaire, a stand described as a threat to world peace and security.
The permanent representative of the Caribbean nation in the UN, Rodolfo Reyes, condemned instruments of western policy, as the change of regime and the support to a military doctrine ever more offensive which includes the purpose to extend NATO to Russian borders.
This stage is observed in the present Ukrainian crisis, where last month radical groups supported by the United States and the European Union (EU) led to the overthrow of President elect, Victor Yanukovich, and the appointment of a pro-western government.
During a meeting of the General Assembly to approach the situation in Ukraine, Reyes recalled recent statements made by Cuban president Raul Castro and Foreign Minister Bruno Rodríguez on the dangers of such interference for world peace.
The plenary session of the 193 UN member nations, analyzed in particular, a resolution project presented by the new Kiev authorities, with the objective of disowning the results of the last March 16th referendum, that approved the integration of the Crimean peninsula to Russia.
The non mandatory document was adopted by 100 votes in favour, 11 against and 58 abstentions.
Armenia, Belarus, Bolivia, Cuba, Nicaragua, Democratic and Popular Republic of Korea, Russia, Syria, Sudan, Venezuela and Zimbabwe voted against the Project that had the OK of the United States and the immense majority of Europe, while Africa, Latin America, Caribbean, Asia and Oceania the positions varied, including the non participation in the voting.
Despite its backing to the initiative fathered by Washington, the EU and some allies, several countries expressed worry for the new power in Ukraine assumed by a government fruit of violence and rupture of the constitutional and democratic order.
For Russia, precisely the legitimacy of the authorities imposed after a coup d'état stands out among the causes that led the people of Crimea, of Russian majority, to opt for their reincorporation to Russia, of which they were part for centuries until 1954.