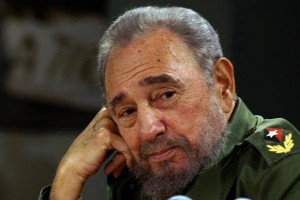 Cuba celebrates today the 88th birthday of Fidel Castro, historic leader of a Revolution that since January 1, 1959, opened the doors of national emancipation and became a beacon for Latin America and the world.
UNASUR Representives Recall Fidel Castro's Birthday
Young Artists Celebrate Fidel Castro's Anniversary
Fidel Castro: Leader Revolutionary, Survivor
Fidel Castro Through the Lens of Roberto Chile (+photos)
Those celebrations here are part of the context of the campaign "Si tengo un hermano" (If I have a brother), also dedicated to whom Fidel Castro defined as the best friend of Cuba, late Venezuelan and Bolivarian leader, Hugo Chavez.
With that objective, marches and demonstrations were carried out all over the island since last month, recalling the fraternal friendship between both figures in the framework of their birthdays and, in the particular case of the Cuban leader, many activities and cultural initiatives were held around his figure.
Today's activities includes the launching of the book "El destino comun de Nuestra America" (The Common Destiny of Our America), a text that reveals the tour of Latin American and Caribbean nations until opening a space of enormous significance for the regional union.
The house where Fidel Castro was born in the eastern village of Biran is undergoing a general repair on occasion of the date, while the wax museum in Bayamo, the only one of this kind in Cuba, will begin exhibiting as of today a sculpture by the 1982 Nobel prizewinner in Literature, Gabriel Garcia Marquez, a personal friend of the Cuban leader.
Thousands of youth will also join this August 13, in tribute to Fidel Castro, the ranks of the Committees for the Defense of the Revolution, a grass-roots organization focused on mobilizing the entire people in tasks to defend the Cuban revolutionary process and the conquests of the socialism.
Several activities were held throughout the island since yesterday, in the context of the International Youth Day, and they were also the prelude for acts and festivities on occasion of Fidel's birthday.
Among them was the photo and audiovisual exhibition "Fidel is Fidel," by filmmaker Roberto Chile, which was opened with great number of people at the Jose Marti Memorial at this capital's Revolution Square.