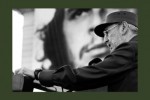 The photo exhibition "Fidel is Fidel" opened yesterday in Havana, as a tribute by filmmaker Roberto Chile to the historic leader of the Cuban Revolution, Fidel Castro.
Chile, renowned cameraman who filmed many times the Cuban statesman, now appeals to snapshot, to celebrate the 88th birthday of the revolutionary leader, born on August 13, 1926.
The image promoting the exhibition show the emblematic olive green military cap Fidel Castro wore, and the star of the Cuban flag at the bottom.
The Jose Marti Memorial at this capital's Revolution Square will host the exhibit, which also includes a sculpture by Ernesto Rancaño, and other works in many formats.
Chile told Prensa Latina that part of the display includes black-white photos, as a tribute to important photographers who captured the epic spirit of the Revolution that triumphed in January 1959.
Artistic initiatives to celebrate the birthday of the Cuban revolutionary leader are expected in many countries.