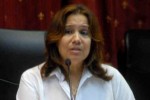 Cuba called at the Inter-Parliamentary Union (IPU) for the total elimination of nuclear weapons, and highlighted a decision from the Community of Latin American and Caribbean States (CELAC) to declare the region a peace zone.
"The problems faced by the world today are very complex. We are living at a time in which climate change and the existence of nuclear weapons threaten the survival of our species," said Cuban Parliament Vice President Ana Maria Mari Machado at the 130th IPU Assembly.
The legislator considered continued spending on armaments and their further development, including that of nuclear weapons, instead of concentrating on people's right to development, unacceptable.
"With the excessive resources devoted to war, we could fight existing extreme poverty, feed the hungry and prevent the death of more than 11 million children each year from starvation and preventable diseases," she said.
Mari Machado stated that the promotion of peace, solidarity, social justice and sustainable development are the only way to secure the future of humanity.
The vice president of the Peoples' Power National Assembly stated that this spirit inspires the CELAC, which seeks formulas for development through solidarity and collaboration among peoples, as a way of promoting human welfare.
The recent CELAC summit, held in Havana, proclaimed the region a peace zone, and expressed a commitment to continue promoting nuclear disarmament as a priority objective, while working toward general and complete disarmament.
The legislator recalled that the region of Latin America and the Caribbean was the first to establish a nuclear weapons free zone, through the Tlatelolco Treaty.
The 130th assembly of the IPU concludes today after five days of sessions, with participation of more than 700 legislators from some 140 countries.
Founded on June 30, 1889, the main purpose of the IPU is to promote peace and political dialogue.