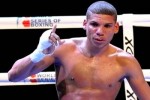 Yosbany Veitia is included in the list traveling to USA for the quarter-finals of the 4th WSB.
Domadores de Cuba (Cuba's Tamers) unveiled the list of the pugilists traveling to the United States to face the USA Knockout team in the quarter-finals of the 4th World Series of Boxing (WSB).
The team involves 10 Cuban boxers, five members and five substitutes who may get into action in the U.S. city of Miami to confront the U.S. team Knockout, in an unprecedented confrontation in the world series of boxing.
The Cuban National Commission of this sport, the squad includes Yosbany Vertia in the 49kg, Marcos Forestal (56 kg), Yasniel Toledo (64 Kg), Ramón Luis (75 kg) and Erislandy Savón (91 Kg).
The substitutes will be Santiago Amador (49 kg), Norlan Yera (56 kg), Luis Oliva (64 kg), Yasiel Despaigne (75 kg) and Frank Sánchez (91 Kg).
Savon will be one of the secure cards secure of the Domadores at the top facing the Knockout, as he has five victories in equal amount of matches and heads the 91kg category with 747 points, the highest of all contestants in the WSB, according to the latest update of the rankings.
In the Cuban team also Veitía stands out, with five victories, leading the 49kg category with 737 units and Ramón Luis with four successes and 1 defeat, leading the 75kg with 737, while Marcos Forestal has 443 points and is second in the 56 kg.
The Cuban tean is already leader of Group B with 27 points, and has 39 victories and only six losses in 45 fights.
This will be the first time in history that Cuba and the United States will face in a team vs team format in five rounds (semi professional) in the ten Olympic categories.
The WSB site points out the arrival of the Cuban team to the series is a sporting milestone that has generated international enthusiasm, bearing in mind that the revolutionary government abolished the professionalism in the island since 1962.