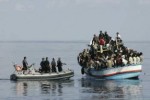 The European Union and the African Union plan to agree on actions against illegal immigration and traffic of people in the summit that will be in session on April 2 and 3 in Brussels.
53 African countries will be represented in the meeting and the 28 Europeans and will be attended by the UN Secretary General Ban Ki Moon.
It is considered the largest summit held in Brussels, according to consulted sources.
Besides migration they will discuss aspects on prevention of crime and the response to the crisis when they happen, investment and job, and to improve collaboration to face global problems such as climate change and poverty.
According to the media, the two parts share the purpose of doing their best to avoid catastrophes such as that of Lampedusa (concerning the shipwrecks that have killed thousands in the surrounding area of that Italian Island) and establish a common agenda to avoid people from having to migrate.
The Plan of Action that must be approved at that summit is based on five goals: Fight illegal human traffic, struggle against irregular immigrations, to boost legal transit channels, to step up capacity of shelter for those seeking asylum in African countries and finally, migration and development.