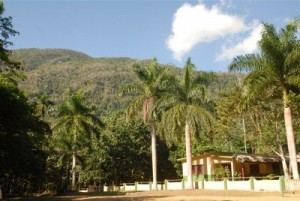 The Alturas de Banao Ecological Reserve in the central province of  Sancti Spiritus, Cuba, is preserving woods which the human hand has not yet touched, as said by specialists from the Cuban Science, Technology and Environment Ministry (CITMA).
Nestor Alvarez, a top technician in Environmental Control in this territory, told Prensa Latina that Alturas de Banao is one of those few virgin places in Cuba, where more than 260 endemic species still live.
Alvarez pointed out that the maintenance activities are performed starting from the development of four projects: flora, fauna, virgin forest care, and environmental education, and also the work to avoid erosion of the soils.
Alturas de Banao occupies more than 148, 263 acres in the Escambray Mountains massif with a great variety of species, 55 of them endemic, precious wood trees, such as cedar, mahogany, walnut tree and others.
Traces are preserved in archaeological sites such as Cueva del Purial, Gruta de Jarico and others.
Other protection projects are performed in Sancti Spiritus, specifically the one in a refuge in Tunas de Zaza for the reproduction and care of pink flamingos, the Cuban crane, the carey or sea turtle and others.
Alvarez said Tunas de Zaza has an important pool system for the life of species like the shrimp, and is a project of the United Nations Program for Development and the Global Environment Fund.
Another relevant place, is the National Caguanes Park, which has been declared a Reserve of the Biosphere by the United Nations Education, Science and Culture Organization, and was populated more than 2,000 years ago by indigenous communities, that left their traces on their beliefs, myths and legends.