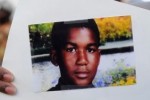 The U.S. Justice Department reopened an investigation on George Zimmerman, night watcher acquitted last Saturday for murdering young Afro-American Trayvon Martin, informed today a spokesman.
At least 616.692 people had signed up three petitions for the U.S. government to open a civil lawsuit against George Zimmerman, whose acquittal sparked angry protests in the country.
Of those who signed, 600.000 citizens joined a text released by the National Association for the progress of people of color, after learning the jury's verdict, which cleared the former night watcher of the charge of murder in the second degree.
The judicial panel reached its verdict after 15 hours of discussions. It even asked for clarification on the charge of involuntary manslaughter.
Meanwhile,  6. 692 U.S citizens signed two other similar requests published in the digital portal of the White House.
All these initiatives are urging the Department of Justice and its Secretary, Eric Holder to accuse judicially Zimmerman for taking the life of Martin, a 17-year-old who he shot and killed in February 2012 while walking unarmed through a neighborhood of Florida in the south of the country.
The victim's parents also warned that they will exploit all legal avenues to reopen the case and bring again the former watcher to court.