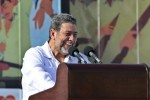 The Prime Minister of Saint Vincent and the Grenadines, Ralph Gonsalves, urged Cubans to look after their revolution, saying that many in the world admire this nation.
Speaking during the commemoration of the 60th anniversary of Assault on Moncada Barracks, the Caribbean leader observed that Cuba is on a good path in the effort to build  a better life for children and grandchildren, with an expectation that reaches out to other nations based on respect to principles of equality and justice.
The leader demanded the cessation of U.S. economic blockade against Cuba, sentenced each year by the vast majority of countries in the UN, and the exclusion of Cuba from the list of governments that support terrorism, an unilateral practice by the U.S. administration.
Gonsalves also spoke of the significant events that will occur in the coming days, with the celebration of the 59th birthday of the late President Hugo Chavez and the summit of the Bolivarian Alliance for the Peoples of Our America (ALBA) in Ecuador.