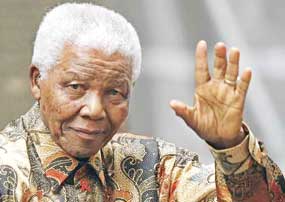 World icon against racism, Nelson Mandela, died today in his Johannesburg residence at age 95 and surrounded by a large number of relatives, friends and representatives of the South African government.
During 2013, his health conditions deteriorated gradually. In March, Mandela underwent an operation. From June onward, his lung problems worsened and was hospitalized in Pretoria in a "critical situation".
World Mourns Death of Nelson Mandela
South Africa Has Lost its Greatest Son, President Zuma Says
Almost 200 days went by of bitter expectation in South Africa, where all the population was prepared for the worst, but doping for the best, but thinking was best for the hero who sacrificed practically his whole life for the total liberation of his people.
The death of Nobel Peace Laureate in 1993 and internationally venerated fighter anti-apartheid was confirmed Thursday night in a communiqué to all the nation by President Jacob Zuma.