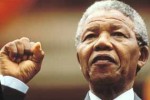 President Jacob Zuma confirmed today the death of South Africa's former head of state, saying, "Our nation has lost its greatest son. Our people have lost a father."
"His tireless struggle for freedom earned him the respect of the world," the president said.
"This is indeed the moment of our deepest sorrow. Yet it must also be the moment of our greatest determination," Zuma said in a speech broadcast by television and radio. "A determination to live as Madiba has lived, to strive as Madiba has strived and to not rest until we have realised his vision of a truly united South Africa, a peaceful and prosperous Africa, and a better world," he said.
South Africans should follow Mandela's example and live like he did, he said.
"Let us reaffirm his vision of a society in which none is exploited, oppressed or dispossessed by another.
Let us commit ourselves to strive together – sparing neither strength nor courage – to build a united, non-racial, non-sexist, democratic and prosperous South Africa," Zuma said.
Mandela won the right to rest in peace, and now it is up to the new generation to honor the values he taught and defended with his example all of his life, he said.
Mandela, the 1993 winner of the Nobel Peace Prize and the first black president of South Africa, died at age 95 on Thursday night at his residence of Houghton, Johannesburg, surrounded by numerous relatives and friends.
"Our thoughts are with his friends, comrades and colleagues who fought alongside Madiba over the course of a lifetime of struggle," Zuma said.
Mandela, a lawyer by profession, spent almost three decades in prison after being convicted of sabotage and the attempt to overthrow the apartheid government, which he battled since the early 1950s as the leader of the African National Congress.
He was freed in 1990 and four years later he became his nation's first black president.
In November, his former wife, Winnie Madikizela-Mandela, said that the revered hero could no longer speak and had to use sign language to communicate because he had tubes that were helping to clean out his lungs.
The respiratory problems that had affected him since 2011 were principally caused by the 27 years that he spent in the Robben Island prison in the country's far south.