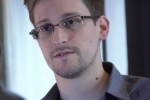 Former U.S. NSA agent Edward Snowden could be granted on Wednesday a special certificate to walk freely in Russia, announced his attorney Anatoli Kucherena Tuesday.
Snowden, who arrived in this capital on June 23 from Hong Kong, presented an official request to the Federal Migration Service (FMS) to receive a temporary asylum, Kucherena recalled, quoted by Russia Today television.
The FMS can reach a verdict within a week, although Snowden's case is extraordinary and more time to analyze it could be required.
The decision of accepting or denying the temporary asylum request, presented by Snowden, 30, on July 16, could delay even three months, clarified the Russian lawyer.
But Snowden can receive a special certificate to walk freely in this nation as he awaits a final verdict, which if it is denied, he can then appeal to the court, explained Kucherena.
Moscow set as a condition to grant a temporary asylum, Snowden's commitment to refrain from revealing more information on the U.S. intelligence espionage program to access internet servers and tap phone calls.
However, journalist Glenn Greenwarls, one of the persons to whom Snowden handed in hundreds of classified documents, underlined the later publication of the texts would be carried out for public interest and goes beyond the will of the ex NSA agent.
Snowden's presence in a transit zone of Moscow's Sheremetievo airport caused Russia-U.S. relations to become strained, while the press speculates about the suspension of a trip of President Barack Obama to Russia in September.