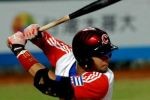 Yulieski Gourriel and Ismel Jiménez are part of the baseball preselection to travel Monday to the United States for friendly games with local university teams.
The shortlist is already down to 32, including eight players of the group that won the recent Rótterdam tournament, sports authorities announced Friday.
The 24 players already training in the Latin American Stadium of this capital were joined by Jose Dariel Abreu, Yulieski Gourriel, Erisbel Arruebarruena and Jose Miguel Fernandez as infielders.
Outfielders Yasmani Tomas and pitchers Ismel Jiménez, Raicel Iglesias and Noelvis Entenza are also part of the pre-selection of players.
The technical corps is headed by director Victor Mesa and also includes Lazaro Lopez, Jesus Manso, Alexis Garro, Jose Ramon Riscart, Victor Figueroa and Ramon More, the latter winner of the national baseball series leading Villa Clara team.
The final list of players (24) who will play five games in the United States territory, will be known next Sunday, date when they will depart for the northern country.
This will be the 12th meet of baseball teams of both nations, a tradition that was rescued last year when a US team visited Havana.
It was also announced in a press conference that the Ciego de Avila team, champion of the national series 2011-2012, will represent Cuba in the Challenger Tournament, in Canada.
The complete Cuban pre-selection to the match with the United States is as follows:
Catchers (4):
Lázaro Herrera, Lednier Ricardo, Lorenzo Quintana and Luis Castro.
Infielders (8):
Andy Sarduy, Yordan Manduley, Yunior Paumier, Yurisbel Gracial, José Dariel Abreu, Yulieski Gourriel, Erisbel Arruebarruena and José Miguel Fernández.
Outfielders (8):
Yasmani Tomás, Rusney Castillo, William Luis Campillo, Edilse Silva, Maikel Cáceres, Dayron Varona, Ariel Sánchez e Irait Chirino.
Pitchers (12): Jonder Martínez, Vladimir García, Ismel Jiménez, Freddy Asiel Álvarez, Yander Guevara, Joel Suárez, Norge Luis Ruiz, Diosdani Castillo, Misael Siverio, Ariel Miranda, Raicel Iglesias and Noelvis Entenza.