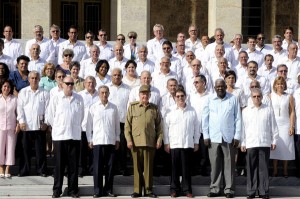 Cuban President Raul Castro presided the swearing-in ceremony of 31 new ambassadors today in this capital.
During the ceremony at the Havana's Jose Marti Memorial Monument at the Revolution Square, diplomats signed the oath of office, in which they pledged to defend the independence and unity of Latin America, as well as work for the construction of a prosperous and sustainable socialism.
Representing the new ambassadors, seven of them women, Eugenio Martinez said they will denounce the U.S. blockade against Cuba, and fight for the return of the antiterrorist fighters Gerardo Hernandez, Ramon Labañino, Fernando Gonzalez, and Antonio Guerrero.
They were detained in Miami in 1998, for alerting their country regarding terrorist actions developed by anti-Cuban extremist groups based in the U.S. city of Miami.
On the other hand, Rene Gonzalez, also sentenced for monitoring anti-Cuban groups, is in the island after renouncing his U.S. citizenship, a requirement set by the U.S. authorities to modify the conditions of supervised release that should comply with after his release from prison in October 2011.
We will defend the principles of international law that many powers want to ignore, such as the non-interference in internal affairs, sovereignty, and the principle of self-determination of the peoples, said Martinez.
According to Ana Teresita Gonzalez, Deputy Minister of Foreign Affairs, the new Cuban ambassadors will be communicators and will defend in front of the world the updating of the economic model, necessary to achieve a prosperous and sustainable socialism, and achieve higher levels of development in the nation.
The swearing-in ceremony is held every year in the scope of activities on the occasion of the annual meeting of ambassadors in Havana.