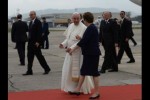 Pope Francis arrived Monday in this city amid tight security on his first trip abroad to preside over the 28th World Youth Day.
His plane, an Alitalia airline Airbus 330, arrived little before 16:00 local time (19:00 GMT) to Galeao/Antonio Carlos Jobin international airport, where he was welcomed by President Dilma Rousseff and state and municipal authorities.
His arrival occurred amid tight security as protests have been anticipated.
He is scheduled to be given official welcome at the Guanabara Palace.