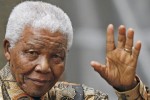 The health of former South African President Nelson Mandela is improving amidst his serious condition in the hospital where he was admitted on 8 June by a lung infection, the government said Monday.
The lawyer and the first black president (1994) is still in critical condition, but shows signs of continued improvement, said presidential spokesman Mac Maharaj.
Mandela, known to his countrymen as Madiba, Xhosa ethnic name continues to be attended by highly skilled specialists and his condition is followed closely by senior members of the country led by President Jacob Zuma, who visited him again Monday.
The former leader of the South African struggle against the racist system of apartheid was the subject these days of official and popular tributes to mark his 95th birthday last July 18, which spread to other regions of the planet.