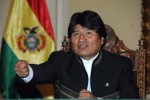 Bolivian President Evo Morales traveled to Uruguay today to attend the summit of the countries of the Southern Common Market (Mercosur), which focus its agenda on U.S. spying and what happened to Morales in Europe.
The Bolivian head of state will, as usual, have a very full agenda throughout the day but in the evening will travel to Montevideo to attend the meeting, which hope to raise a serious claim to the United States for alleged spying on several Latin American countries.
Morales is one of the main figures of the meeting, in which attendees leaders will question the ban on his plane to fly over the airspace in France, Italy, Portugal and Spain, last week.
The situation experienced by Morales and MERCOSUR demand for apologies from those countries, as it has happened in several meetings of international organizations, can leave aside the domestic problems of countries member of the regional bloc.
Attendees also include Argentina's President Cristina Fernandez, who announced on July 9, on the occasion of the celebrations for the independence day in her country, that there will be a unified position, to repudiate the United States' actions.
Fernandez also suggested that a political apology will be rewuired to the European countries that banned the fly and operations of President Morales' plane.
The Bolivian head of state, the first country's indigenous in that position, will be the guest of honor and certainly the focus of the meeting, which will be also attended by Honduran President Porfirio Lobo, as guest.
According to analysts, it is likely that, after the meeting, relations between MERCOSUR and the United States will be tighten even more, as with the European Union.