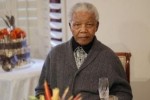 A best gift is impossible: Nelson Mandela is turning 95 today with "notable progress" in his health and a family lunch to celebrate his birthday at the Medi-Clinic Heart Hospital in this capital.
The news brought jubilation and delight to South Africans, who have closely followed the state of health of the antiapartheid leader since he was hospitalized on June 8. We will eat very close to Tata, said one of his daughters, Zindzi, euphorically.
At the Union Buildings, the Presidential Palace, from where Mandela led the country from 1994 to 1999, several events were held to celebrate the birthday of one of the world's most beloved politicians.
Tata is watching TV with headphones and we will be with him soon in a family lunch, one of the things he most enjoys, said Zindzi with tears in her eyes.
"His doctors confirmed that his health is improving regularly," the South African presidency pointed out for the first time in a communiqué issued by President Jacob Zuma to wish Madiba a happy birthday.
We thank all our people for supporting Madiba during his hospitalization with eternal love and compassion. We are proud of calling this international icon one of ours, South African, and we wish him good health, Zuma said.
Actor Morgan Freeman, who played Mandela in Clint Eastwood's film "Invictus", and singer Harry Belafonte, sent heartfelt messages of affection and admiration to the man who spent 27 years in prison.
His example of forgiveness and reconciliation, tenacity and integrity, is immense, said the Hollywood stars, who were joined by international figures like UN Secretary General Ban Ki-moon.
Women who in the past staged a peaceful march to protest against the regime of racial segregation in South Africa, gathered today at the Union Buildings to receive their identity cards of "their free, sovereign and democratic country".
The symbolic event served to recognize black and white people who inspired in Mandela were part of the emancipating battles by South African society, including two women aged 109 and 98.
In addition, the last president of the South African racist regime, Frederick De Klerk, joined the congratulatory events and noted "Nelson Mandela's extraordinary contribution to the country" on the 95th birthday of the Nobel Prize winner.
On the day of his birthday, we should commemorate his extraordinary contribution to South Africa and its entire people, said De Klerk in a communiqué.