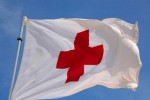 Santiago Luengo, delegate of the International Red Cross and Red Crescent Federation for the operation to help on the effects of Hurricane Sandy in Cuba, extolled the social response of Cuba before these events.
Luengo talked about the communitarian actions, to the social approach, and said that they are impressive and worthy to be recognized, in addition to a support of great value for the work of those institutions.
He alluded to a workshop made in recent days with representatives of the five Eastern provinces of Cuba, to enable to obtain safer houses and ceilings, as part of the contribution to face natural catastrophes better.
"The volunteers of the Red Cross and Red Crescent should prepare the communities to detect vulnerabilities in the surroundings and risks in the houses and create the capacities to alleviate or solve those problems," said Luengo.
Also he emphasized in the use of a tape in the covers, as a new tool in Cuba and of proven effectiveness in other nations in similar circumstances, with his mouldable stainless steel structure that increases to the resistance before winds and intense rains.
He expressed his satisfaction by the received samples of gratefulness of families benefited with the solution to their necessities of ceilings and dwelling.
The representative of those international organisms said that the priorities for the humanitarian attention have been centered in the most vulnerable people, ill, old destitutes, pregnant women, mothers with small and disabled children.
He showed the intention to help the Cuban Red Cross and fortify its service, as well as to collaborate as far as possible with the solution to than 170,000 houses damaged by Sandy eight months ago.