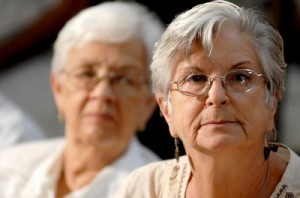 Magali Llort longs to live his son's dismissal of jail on February 2014.By Arelys García and Enrique Ojito
Magali Llort, mother of Fernando Gonzalez, longs to live his son's dismissal of jail on February 2014.
Sancti Spiritus Demands Freedom for the Cuban Five (+photos)
Message from the Five to the World and the American People
Rally for the Freedom of the Five Starts in Sancti Spiritus
Sancti Spiritus will Ask Obama to Grant Pardon to the Five
Yellow Ribbons to Demand the Return of the Five to Cuba
– Fernan, what do you do when our visit is over?, Magali Llort Ruiz asked his son, while her eyes wandered on the greenish uniform, stigma of cell and waiting.
– I lie down, close my eyes and it looks like I'm floating, replied Fernando Gonzalez, who, at the unexpected question, played with his thick mustache to contain his emotions.
Magali has recalled those words more than once, as well as the images of the red brick walls of the Safford's prison entrance, in Arizona, United States, which encloses the 50 year of Fernando, one of the Five.
" When I was informed that my son was imprisoned in the United States, that was the worst moment of my life," says this 74 year old woman, whose existence has not been marked by good fortune.
Magali does not tout about her history, but her memory sticks to the sanatorium where her father remained because of a lung condition. Not being allowed the entrance, she waited for her mother at the door, who also went through a lot to reclaim her position when she was left out as public servant in the Ministry of Justice at that time.
After the first of January, 1959, her mother and part of the family emigrated to the United States; she would not consent. From an insurance office, she came to work with the National Bank of Cuba. After 30 years of marriage, the divorce came.
In 1998, while doing the paperwork to exchange her home for two apartments and help Fernando, she was surprised by the news of his arrest and mission in Florida, where he alerted Cuba of the actions of hostile groups and organizations against our country and, specifically, of the terrorist Orlando Bosch.
"Knowing that he had given his youth for that reason, I gathered strength to endure the first 17 months he was incommunicated; I thought I could not stand it," she says by telephone, to these reporters .
– I –
After being held at the Federal Detention Center in Miami, González Llort was transferred, first, to a correctional institution in Oxford, Wisconsin, and then to Terre Haute, Indiana, in 2007. In the middle of last year, he was moved to Safford, Arizona, where his 17 years and nine months sentence will expire on February 27, 2014.
"I would like to meet my son at the prison door, watch him walk out of that place; but that depends on whether I'm given the visa for that date," says the mother with the impatience brushing words.
But surprises are not likely to end for you that day.
Indeed. Right now Fernando is in contact with an American lawyer specialized in immigration issues; for being a Cuban citizenship, once his sentence is over, he is supposed to go for an immigration prison . What is the intention with the lawyer? The intention is to route all these procedures, so that Fernando's transit is as short as possible, even if he's declared deported since leaving prison. So, the legal work is focusing on the viability of his return. The process can be long or not.
How much does it affect Magali to know that Gerardo Hernández is intended, legally , to die as prisoner?

You can not possibly imagine. Every time I visited Fernando we talked about it. Even if my son can feel relieved because he has little time there, he has in his consciousness that he needs to continue fighting for the rest of his brothers. They all concern us, but obviously, the case of Gerardo more.
His sentence has no end due to his sanction of two life sentences plus 15 years. We just do not understand why; if a person has only one life, we do not understand that in the legal aspect two life sentences are imposed. Nobody lives, resurrects and lives again to return to die.Gerardo hurts us a lot; his punishment is totally unfair and he has nothing to do with his charges.We can not let Gerardo die in prison. We know there is prejudice in the United States against any matter that comes from our Cuba, all that hatred worked against him.
– II –
April, 2013. In Safford prison's visiting room, the photographer got evidence of the happy moment, despite the animosity of the guards. For the first time in over 14 years, Magali enjoyed the reencounter of Fernando, Marta, and Lourdes. Her three children talked, laughed, and cleared anxieties together. At that very moment, the mother seemed to forget the absence of his son on Sunday, when her two daughters come over for lunch. "A mother never gets used to the absence of a son", she confessed to us.
Does Fernando still paint?
No. In the place where he stays now, he doesn't have the minimum conditions to do so anymore. There isn't enough place to do his paintings. He lives with other nine inmates. It's a horrible thing. US prison population is very high, and this one is a low security jail, where many of the prisoners have served long sentences, and are about to be released.
As far as we know, it was Oscar Lopez, the pro-independence Puerto Rican who taught Fernando the first lessons.
Fernando did like to write, but he was no skilful in crafts. All of the sudden, and advised by Alberto (Carlos Alberto Torres), another pro-independence Puerto Rican, he started to paint while in Wisconsin prison. Later on, when in Terre Haute, he had the help of Oscar. The first thing he sent was a portrait he made me. He then painted his sisters, and Rosa Aurora, his wife. When he was transferred to Arizona, he couldn't paint any more.
A poet once said that a flower can grow in the desert.  Has this sign of life in the middle of such dryness any parallelism with the friendship between Fernando and his Puerto Rican pro-independence fellow prisoners?
In the middle of such disgrace, Fernando at least feels proud of his friendship with those two pro-independence political prisoners. We had the chance to see Alberto in the visiting room, but we were not allowed to greet him. We also saw his father there. He was an old man who passed away when my son was still in that prison. Fernando shared those difficult moments with Alberto. He was denied permission to say the last good-bye to his father. Oscar Lopez is another great man. He's been in jail for over 30 years, and he's still fighting for his release. Fernando knows how to cultivate friendship.
— III —
In the harshness of the prison, Alberto learned what Magali would tell us about Fernando: "My son is a very responsible person. He's methodical, but not grumpy". The five-year walks in the yard of the Oxford's correctional institution, allowed the Puerto Rican ex-prisoner get to know a person who, despite his suffering, "didn't show any bitterness for his condition". Those walks led to personal memories, discussions, or to jokes and talks about former youth girlfriends".
Magali had a hard time to reach the prison by taxi, through snowy forests, to visit who was considered Wisconsin's most popular political prisoner, according to US distinguished legal professional Arthur Heitzer. She also found several solidarity hands when she came to visit his son at Terre Haute, or Safford. "It was a desert-like, terribly hot place. Very few persons live in the town; there is pharmacy and a church there. The town is very far from the city", she added.
It may be that next February, Magali will step by to give Fernan -as she calls him-, the freedom hug at the prison door. Let's hope she won't be deprived from that moment. If so, it will be a cruel thing. Meanwhile, at night at her home, she continues to imagine that moment. She then goes to bed, closes her eyes, and seems to be floating.