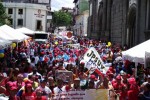 Venezuelans celebrate the 59th birthday of Hugo Chavez, the man who dreamed of being a professional baseball player, but definitely took the course of the soldier until climbing to the presidency of his country.
A brief fireworks salute and flares broke the deaf snoring, not the silence, and scratched Caracas's night sky at 12:00 am sharp on Sunday.
Venezuela prepared a celebration that is no longer for the individual, the friend, the fellow soldier, the statesman, but for the myth – how many of his enemies will believe it as well – that somehow it is the sum and synthesis of all of the above.
"Today we thank God for giving us 59 years ago a man in palm ranch, which raised his homeland and was a worthy son of Bolivar," Venezuelan President
Nicolas Maduro said on his Twitter account. Maduro and his cabinet arrived
Sunday in the plains of Barinas.
In a second message, Maduro wrote, "Thank you life, thank you Homeland, thank you Chavez, your people has never failed you or will fail you ecause they received from you the Christian love of a giant…"
Maduro returned from Havana, after he attended on Friday, July 26, the main event in Santiago de Cuba on the 60th anniversary of the attack on the Moncada Garrison, an action commanded by Fidel Castro that began the cycle of struggles that ended with the Triumph of the Revolution in 1959.