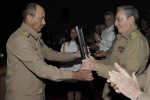 The leader of the Cuban Revolution, Fidel Castro today received here the Honoris Causas degree in Military Sciences awarded by the Revolutionary Armed Forces (FAR) Academy.
The director of the military institution, General Urbelino Betancourt, at the ceremony highlighted the Fidel Castro's "relevant" contribution to the formation and development of Cuban military doctrine and its dedication to "the defense of the people and causes more humble."
According to national television, during the ceremony was remembered strategist role of the revolutionary leader in international missions in Africa, during the October Crisis and the Bay of Pigs invasion by mercenary forces.
The ceremony was attended by Cuban President Raul Castro and other government leaders and military officers.
The ceremony was performed as part of the activities for the 50th anniversary of the FAR.