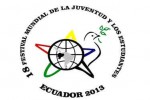 Dozens of Ecuadorians warmly welcomed the Cuban delegation to the 18th World Festival of Youth and Students, which arrived in this capital today.
More than 200 Cuban delegates to the event, which starts tomorrow and ends Dec. 13, were received at the Mariscal Sucre International Airport with flowers and slogans like "Cuba Sí, Yankees No," and fluttering Cuban and Ecuadorian flags.
Yuniasky Crespo, first secretary of the Union of Young Communists and leader of the Cuban delegation, told Prensa Latina that the group will be joined by another 70 young Cubans who work in different areas of cooperation in Ecuador.
Elián González is one of the Cuban delegates participating in the Festival. Elián was the six-year-old boy who was caught up in a legal dispute between Washington and Havana 13 years ago, when he survived a shipwreck in the Florida Strait that killed his mother, and his relatives in Miami tried to keep him in the United States against his father's will.
"This (the festival) is a space for showing the achievements of the Cuban youth," he told Prensa Latina.
Organizers of the event expect about 10,000 young people from different countries to discuss current issues like peace in Colombia, the Chilean students' situation and the Citizens' Rrevolution in Ecuador.
The 18th edition of the World Festival of Youth and Students will be devoted to the leader of the Liberal Revolution of Ecuador, Eloy Alfaro, to the late Venezuelan president Hugo Chávez, as well as the Ghanaian independence leader Kwane Nhkrumah.