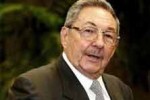 Raul Castro congratulated the Association of Cuban Journalists (UPEC) on occasion of the 50th anniversary of its foundation, and its 9th Congress, held in Havana.
The congratulations of the Cuban statesman was conveyed by First Vice President Miguel Diaz-Canel, who stressed that the thought of national hero, Jose Marti, the historic leader of the Revolution, Fidel Castro, and the head of State, was present during the working sessions.
Diaz-Canel also gave the UPEC on Sunday night a diploma of recognition signed by Raul Castro.
I want to congratulate the new UPEC leadership, and tell them you can count on the leadership of the nation, as we know that the media is contributing to the development of a prosperous and sustainable socialism, Diaz-Canel said.
This 9th Congress was necessary and appropriate, it was characterized by an intelligent debate and committed, and is important for its contribution to the present and future, the first vice president pointed out.
I do not think that our journalists are the most criticized, we require of them to build socialism, and there is no lack of credibility, he said.
The population is informed by the press, the newspapers are sold out at the stands, people write to the media, given criteria, participate, and that means we have confidence, said Diaz-Canel.
Cuban President informed that the press should be capable of reflecting the reality on the diversity in which we live, without excessive secrecy, with knowledge and debate, the first vice president recalled.