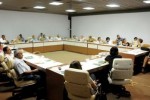 The permanent commissions of the Cuban National Assembly of People's Power will meet Thursday and Friday, this week, prior to the First Session of the Eight Legislature to take place Saturday at Havana's Conventions Center.
According to Granma newspaper, the commission will consider the results of the latest internal control process carried out by the General Comptroller's Office and they will also address their working plans according to their priorities for the second half of the year.
The Commission on Constitutional and Legal Issues and Attention to Services will analyze and approve a draft document to be submitted to the Parliament about the Bill on Maritime, River and Lake Navigation, which will be debated by the parliamentary session.
The Commission on Economic Issues will address the report on the 2012 Budget, which will be presented by the Finance and Price Ministry.
As announced by last Friday's Council of Ministers, the Assembly will also consider reports on the performance of Cuban economy and the budget for the first half of the year.
The National Assembly's Eight Legislature was set up last February 24 with 612 deputies, who represent 168 municipalities. The lawmakers were elected by direct and secret vote by over 7.8 million voters.