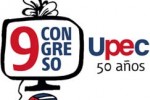 The final sessions of the 9th Congress of the Association of Cuban Journalists (UPEC) began this Saturday in this capital to debate the kind of journalism that Cuban socialism needs in the current media scenario.
According to the event program, other topics for debate are "The Press as a System, Aspirations and Scenarios," and "Professionalism: Form, Content, Routines and Performance. Quality management".
The meeting, which will conclude on Sunday at Havana's Conference Center, will also discuss the material situation of the press and its impact on the effectiveness of information, media experience, journalism and politics.
The Main Report will be presented and the Congress will make a statement about the five Cuban antiterrorist fighters unjustly held in the United States for monitoring the activities by Miami-based violent groups against Cuba.
Gerardo Hernandez, Ramon Labañino, Fernando Gonzalez and Antonio Guerrero are still serving long sentences, while Rene Gonzalez is in Cuba after more than 12 years in prison and after renouncing his U.S. citizenship as a condition for his return to the island.
New President of Cuban Journalists' Union Announced
The new president of the Cuban Journalists' Union (UPEC), Antonio Molto, was presented on Saturday, at the opening of the final sessions of the 9th Congress of that organization, after he was elected at the plenary meeting of the National Committee.
Aixa Hevia was elected first vice president, and Bárbara Doval and Belkis Pérez Cruz are the vice presidents. The new UPEC National Committee was also announced at the Congress.
The Congress is taking place shortly before the organization, founded on July 15, 1963, will celebrate its 50th anniversary.