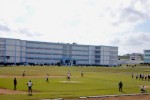 Cuban women and men punished for various crimes recognized that in the penitentiary centers they receive a treatment consistent with the respect of the human rights and various options for personal and professional advance.
During a tour made by national and foreign reporters of penal facilities in Havana, Prensa Latina talked to convicts who serve sentences for crimes such as embezzlement, bribery and violent robbery.
We have the treatment we deserve as human beings. Although we know that in prison things can not be as they are in the street. They guarantee us food, medical care and decent living conditions, beyond any problem, said Emelina González.
According to a Bachelor in Economy, punished for crimes against property, that criterion abounds among her companions in the Women Penitentiary Facility Guatao, in the municipality La Lisa.
I'm a diabetic and I have what I need for my treatment, glucometer and a milk diet. Besides I'm allowed to enter fruits and have appointments with a general doctor every 15 days, so I feel I receive a good care, she explained.
Gonzalez mentioned that she receives the visit of her husband, her daughter and grandson every 35 days, something that gives her strength to keep forward.
The convict emphasised in the existence of study and work programs to which she collaborates due to her professional level.
We give classes and help in skills training, and with courses and programs on language, cooking, computer, secretary, plastics arts, knitting and embroidery, in which we work as instructors.
For its part, Ernesto Camacho, a 20 year old Havanan explained that in the Correctional Center for Youth in San Francisco de Paula convicts have multiple study and work choices to assure their reinsertion in the society.
There are many activities and much to learn; here I became welder and now I'm on programs on bricklaying and cooking, besides I'm studying to have my high school degree, he added.
According to Camacho, who has been in the facility for a year for the crime of violent robbery, his goal in life is not to make again mistakes of that kind.
Regarding the conditions of the center, he emphasized in the treatment he receives, the systems of permissions to go out of the facility, the frequent family visits and the support of the military in charge of the correctional.
They get along well with us and are always there, anytime we need them. That makes us feel well, although there is nothing like home, he said.
For Ventura Morejon, 20, study and work help to surpass the past and to think in a different future.
When I serve my sentence I will not be back, he assures while he pays attention to the lessons of an experienced mason.
Morejon added that he receives a good treatment and has no complaints on the medical attention and the conditions of the facility, which has no gates.
National and foreign journalists also tour in the Cuban capital the Center of Work and Study for Adults and Youths La Lima and the facility of high security Combinado del Este, where they dialogued with convicts and knew about the programs for benefit them.
In their report on the Universal Periodic Review before the Council on Human Rights, that will be presented next May 1 in Geneva, Switzerland, the Caribbean island includes policies and achievements of the Cuban penitentiary system.
Among the data the text says that more than 27,000 inmates are voluntarily incorporated the different levels of education.
The document, facing an exercise that should be subject to all member countries of the United Nations, adds that were also strengthened the activities of the Work-Study Centers, open facilities that promote the overall culture of the inmates.