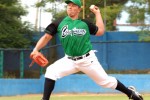 Cuban pitcher Norberto Gonzalez, Olympic champion in Athens-2004 confirmed his retirement from active baseball after 15 seasons in the island's national sport.
The lefty, who participated in the three editions of the World Baseball Classic and was also silver medalist in the Beijing Olympics, explained that he decided to be consistent with his plan of leaving the field when he could not get at least 10 victories in a national championship.
In the most recent version of the Cuban league, the pitcher, 33 achieved a record of four wins and two defeats, but after returning injured of the Classic his performance with Cienfuegos was far enough from what he did in the first part of the season.
Gonzalez told radial reporters in Cienfuegos his decision of not obstructing the development of promising young pitching in his province.
"This was not an efficient season due to the injures I had, and it is time to say goodbay," insisted Gonzalez, considered the best left-handed pitcher in recent years on the island.
At the last National Series, in which the Elephants (Cienfuegos team) repeated his best performance (third place two years ago) Norberto managed to equal the 139 victories of the also lefty Adiel Palma, until then the pitcher with more victories in the history of Cienfuegos.
His list of achievements includes the World Cup title organized by the Netherlands in 2005 and two titles in Pan American Games, Santo Domingo-2003 and Rio de Janeiro, 2007.