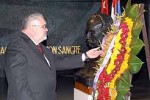 Attorney General of Brazil, Roberto Monteiro Gurgel, expressed in Havana the great interest of his country in establishing channels of integration with the General Attorney's Office of Cuba, Granma newspaper reported.
In statements to that daily, Monteiro, "who started yesterday a visit to the island," said that interest is mainly due to the increasing common ties between both countries.
The Brazilian delegation, also comprised of International Relations director at the Prosecution Office, Georgea Diogo, paid tribute to national hero Jose Marti, by laying a wreath in the Memorial at the Havana's Revolution Square.
Subsequently, Monteiro toured the premise, where he received an explanation about the life and work of the called Master Teacher.
The visitor came accompanied by Brazilian ambassador to Cuba Jose Felicio, and deputy attorney general Marlen Fernandez.
Later, Monteiro held a meeting with legislator Homero Acosta, secretary of the Council of State.