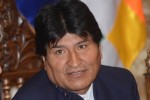 Evo Morales accepted today the apology of European countries that prevented the overflight and operations of his airplane earlier this month, which made him remain locked for 15 hours in Vienna, Austria.
"We accept the apology of the four countries as a first step because we want to continue with the relationship of respect between our countries, relations of complementarity and solidarity," said the president during a press conference from the Presidential Palace, seat of the government.
Morales said that the Indigenous movement, which he represents, is not vindictive, in reference to a possible rupture of relations with France, Spain, Italy and Portugal for the overflight ban to the presidential aircraft FAB-001.
At the same time, he insisted that the Plurinational State reserves the right to continue with actions before international organizations "until getting a full reparation for this aggression and that these events do not occur anymore".
This fact had been considered by governments, international organizations and social movements as an act of agression, unfriendly and unacceptable, he said.
"We thank to social organizations from Bolivia and the world, to international bodies such as the Organization of American States (OAS) and the United Nations," added Morales.
He also stressed, mainly, the support by the presidents of UNASUR (Union of South American Nations), MERCOSUR (Southern Common Market), CELAC (Community of Latin American and Caribbean States), ALBA (Bolivarian Alliance for the Peoples of Our America) and the Non-Aligned Movement.
"We value the unity and solidarity of our region, which has been exemplary in the world. We condemn the U.S. actions against its own citizens, against their NATO allies (Organization North Atlantic Treaty) and against the whole world," he said.
"We intend that these events do not occur anymore. And do not hold resentment, but am even more convinced that this fact has committed to worldwide. And it is so important to the defense of the dignity of our people," the president ended.