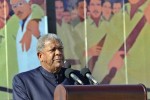 Antigua and Barbuda's Prime Minister Baldwin Spencer said that Cuba is an example to follow in justice, dignity, and self-determination values.
In his speech at the ceremony to mark the 60th anniversary of the attacks to Moncada and Carlos Manuel de Cespedes garrisons, Spencer congratulated the Cuban people and government for that heroic deed.
"I am very honor to be here in Santiago de Cuba city to attend this ceremony, and I want to congratulate the Cuban people and government for the efforts to preserve their history," said the Caribbean country's prime minister.
On behalf of his country Spencer thanked all Cubans for the example of internationalism, and recalled that a group of young people rose against the injustice of a tyranny 60 years ago.
The prime minister stressed that the Cuban government strongly holds the principles the July 26th Movement fought for and which should be followed by many countries in the world.
Cuba is a power in health and education, two sectors that play a key role in development.
The Cuban people and government have helped Antigua and Barbuda in those sectors for years and they have provided us important benefits, stressed Spencer.