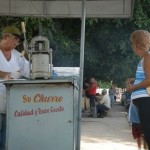 by Enrique Ojito Linares The 34 300 000 pesos added to the state budget during the first 10 months in Sancti Spiritus province, via tributary obligations, confirmed the great impact of the flexibilization and widening of the non-state sector in Cuba's economy one year after these new regulations were put in force.
---
by Prensa Latina The Cuban men's team defeated its counterpart of Brazil 3-2 on Monday in the 2011 Volleyball World Cup and totaled its fifth victory with two defeats, while group-leaders Poland and Russia also won on this date.
---
by Enrique Ojito Linares Artex S.A. branch in Sancti Spiritus stands out as one of the most profitable entities of its kind in the island. So said Artex's General Manager in the territory Felix Perez Zuñiga, who added that the financial gains of the business were 10% larger than what was planned.
---
by Prensa Latina A therapeutic vaccine against advanced lung cancer created by scientists at Cuba's Molecular Immunology Center, will be tested in Great Britain, the IANS news agency reported.
---
by Prensa Latina Los Van Van Orchestra, Cuba's musical icon held here three concerts in front of thousands of Angolan dancers, who applauded and had the opportunity to welcome them, for the first time in the history of this group.
---
by Prensa Latina Debates at the 17th UN Conference on Climate Change on Tuesday entered the second day, with the challEnge of overcoming the traditional slow pace of those negotiations and producing convincing agreements.
---
by Prensa Latina Despite the foreign harassment and pressures the once considered Arab brothers have joined, Syria will continue carrying out its reform program, authorities confirmed on Tuesday.
---
by Prensa Latina The president of the Angolan Parliament, Antonio Paulo Kassoma, on Wednesday concludes his official agenda of his visit to Cuba with the signing of a final declaration.
---
by Prensa Latina The students marched from the historic University of Havana down on the popular San Lazaro Street and up to the mausoleum of the eight medical students, where wreaths were laid, including those sent by Cuban Revolution leader Fidel Castro and President Raul Castro.
---
by Enrique Ojito Linares Capital reparation of La Ronda Hotel in Trinidad, Sancti Spiritus, is one of the most important constructive actions carried out by the Tourism sector in the Cuban central province.
---