by Enrique Ojito Linares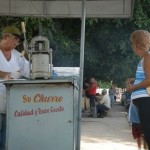 The 34 300 000 pesos added to the state budget during the first 10 months in Sancti Spiritus province, via tributary obligations, confirmed the great impact of the flexibilization and widening of the non-state sector in Cuba's economy one year after these new regulations were put in force.
When comparing the current year to the previous one, Orelvi Jacomino Ramos, head of the Provincial Department for Labor and Social Security, explained that by the end of 2010 Sancti Spiritus had summed up 6 400 000 pesos for the concept of private entrepreneurs.
15 150 licenses have been granted in the territory, a 37% higher in respect to September's 2010, said the official. Sancti Spiritus, Trinidad and Cabaiguan municipalities are the regions with highest numbers of self-employed workers while the most popular jobs are food production workers, carriers, delivery persons, tenants, CD sellers and babysitters.
The flexibilization of self-employment in Cuba, a decision made to update our economic system, currently involves 181 variants and has increasingly become an employment option, basically for workers with no bonds at all and retired people.