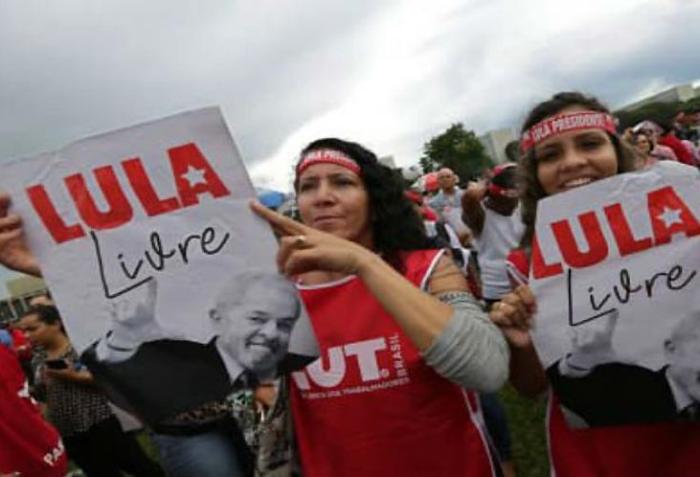 The members of the Movement of Rural Workers without Land (MST) will travel about 50 kilometers to accompany the inscription of the presidential candidacy of Luiz Inácio Lula da Silva
Over five thousand members of the Landless Rural Workers (MST) start today the National March Lula Free from three surrounding cities which will end on August 15 in Brasilia.
There will be three columns advancing from Formosa and Luziania, in the neighboring State of Goias, and Engenho das Lages, in the Federal District.
After walking about 50 kilometers in five days, they will reach this capital to accompany the inscription of the presidential nomination of Luiz Inacio Lula da Silva, political prisoner alrady 126 days.
The start of the MST demonstration coincides with the celebration all over the country of the 'Enough Day', summoned by the nine trade unions of the country to demand the end of unemployment, misery, hike in fuel prices and the crisis, worsened by the government of Michel Temer.
Both the march for democracy and the right of Lula to being a candidate, as rallies organized by the trade unions, are part of a national program of demonstrations that also include the hunger strike started last July 31 by seven members of rural and city people movements.
As it was known, the strikers presented yesterday 11 demands to the same number of ministers of the Supreme Coirt asking they discuss two declarative actions of constitutionality which question the prison of Lula after being ratified in second instance, which is contrary to what is established by the Constitution of the Republic.
Former president Luiz Inacio Lula da Silva has been a political prisoner for over 120 days, after the appeals court of Porto Alegre (TRF-4) increased his sentence to 12 years and one month and ordered the immediate application of the sentence.
According to the Magna Carta, the principle of presumption of innocence should be maintained until all resources of appeal have been used in all judicial levels.
But an understanding in 2016 of the Supreme Federal Court (STF) opened the possibility that those condemned could be deprived of liberty once ratified the sentence in second instance.
The STF is the place where the liberty of former president Lula can be debated and deliberated immediately, indicated a note issued by the popular movements whose members participate of the extreme measure.