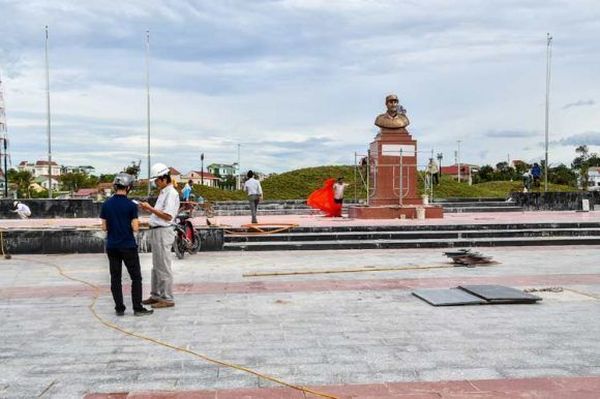 The square will be part of a cultural complex which is scueduled to be open early 2019

The works of a square to be named after Fidel Castro in central Quang Tri province, one of those visited by the historical leader of the Cuban Revolution when he was in Vietnam in 1973, are going fast.
A bronze bust of Fidel, mounted on a marble pedestal, is already located in the place, three mounds rise at the bottom evoking the mountainous regions where the fighting was carried out for the definitive independence of the island.
Several royal palms, the Cuban national tree, will be sown in those hillocks, already covered with grass. A little to the left, as a backdrop, a small artificial lake will bring a clear remembrance to the Caribbean Sea.
Faced with the insistent requests by Prensa Latina reporters, the workers unveiled for a moment the unpublished bust of Fidel, so that the images that accompany this text are a world exclusive: nor the Vietnamese press has granted such privilege.
The square will be part of a cultural complex whose opening is planned for early 2019, but the esplanade itself should be completed at an earlier date, probably in mid-September, on the occasion of the 45th anniversary of the visit of the then Cuban prime minister.
Dong Ha (the provincial capital) will have the honor of being the first city in the world with a place named after Fidel Castro, one of the people in charge of the work told us.
Fidel was the first and only president to visit Vietnam during the war, and one of the regions he visited was Quang Tri, at that time only 85 percent liberated and still under the threat of North American bombers.