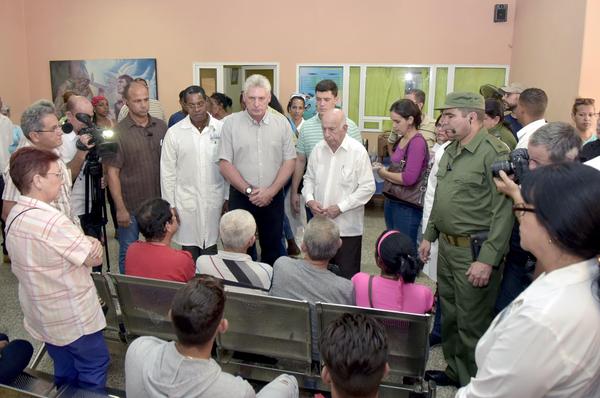 Cuba President Miguel Díaz-Canel Bermúdez and the Second Secretary of the Party, José Ramón Machado Ventura, visited the relatives of the victims of the air accident occurred last Friday in Havana
Investigations continue on the accident occurred Friday at noon in the Cuban capital, in a place in which more than 30 legal medicine specialists are still identifying dead bodies.
Cuban Transport Minister Adel Izquierdo stated to national and foreign reporters Sunday that the specialists are intensely working on a cultivation area close to Havana's Jose Marti International Airport, in which a Boeing 737-200 hired by Cubana de Aviacion with 113 people on board, crashed down.
Izquierdo said that representatives of the airplane's manufacturer, the US company Boeing, will arrive on the island, and also international experts and insurers.
We will give them all the needed things to do their work, in line with the protocols and international standards, he said.
For his part, Deputy Health Minister Alfredo Gonzalez reported that up to Saturday afternoon 15 of the 110 fatal victims of the disaster (five minors and 10 adults) had been identified.
For his part, Cuban President Miguel Diaz-Canel toured facilities related to the incident the day before, including the hospital where survivors are treated, the Institute of Legal Medicine and a Havana hotel that houses relatives of the victims.
Díaz-Canel reiterated the condolences of the Cuban government and people to the people affected by the tragedy.
From several latitudes more solidarity messages arrive today in Cuba after the plane crash last Friday in this capital, in which a hundred people died.
Since the tragedy occurred, countries in Latin America, Europe and Asia sent various messages of solidarity to the largest of the Antilles.
On behalf of the Government and people of Bolivia, the Ministry of Foreign Affairs of that country expressed its deep sorrow for the human losses due to the disaster.
The Chilean government expressed its condolences to the Caribbean island due to the accident of the airplane that fell ashore shortly after taking off.
Letters from Panama, Costa Rica, El Salvador, Brazil, Peru, Venezuela and Colombia also expressed their support to Cuba that remains mourning the pain of losing a hundred inhabitans.
Austrian Federal Minister for Europe, Integration and Foreign Affairs, Karin Kneissl, sent a message of sorrow to the Cuban people, while Serbian President Aleksandar Vucic and Prime Minister Ana Brnabic also conveyed their condolences.
Angolan President, Joao Lourenzo, and his Chinese counterpart, Xi Jinping, expressed their sorrow for the tragedy, in which 110 people died, including five minors.
The Canadian government also conveyed its condolences to the Cuban people, while Pakistani Prime Minister Shahid Khaqan Abbasi expressed deep sorrow over the unfortunate event.