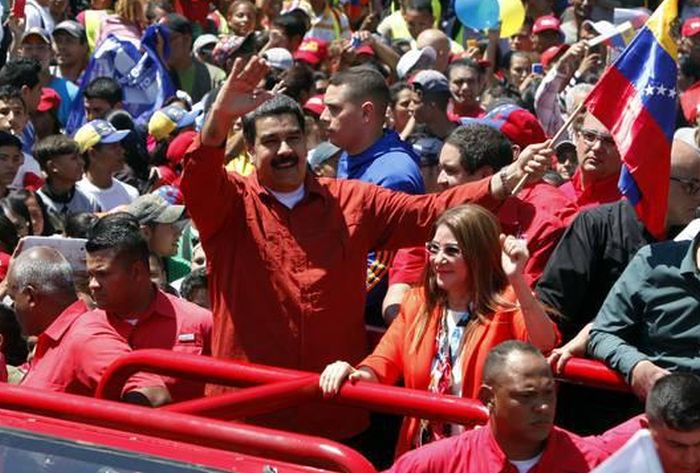 Maduro has promised that the Government will strengthen the work of social missions to guarantee the welfare and protection of the people
Venezuelan President Nicolas Maduro thanked members of 10 political parties for the support given to his nomination for the presidential elections on April 22nd, after making his nomination official at the National Electoral Council (CNE).
Maduro went presented himself as a candidate for the period 2019-2025, accompanied by a mass crowd of people and the leaders of each party that expressed their support for him.
Along with the party Partido Socialista Unido de Venezuela (PSUV), led by Maduro, he was given the support of the parties Somos Venezuela, Tupamaro, Patria Para Todos and Podemos.
He was also given support by Unidad Popular Venezuela, Organizacion Renovadora Autentica, Alianza Para el Cambio, Movimiento Electoral del Pueblo and Partido Comunista de Venezuela.
During the nomination as a presidential candidate for April 22nd elections, Nicolas Maduro presented the CNE his government program, continuity of the program Plan de la Patria for the period 2013-2019, outlined by leader of the Bolivarian Revolution Hugo Chavez.
Maduro said that the new version of the program was discussed by more than three million people during the people's assemblies held throughout the national territory, with the participation of social sectors settled in the country.
Before the crowd gathered at the Plaza Diego Ibarra, in Caracas, Maduro said that after the upcoming presidential elections, a new stage will begin to build a future of prosperity, economic development and strengthening of the process for social inclusion.
He said that the Government will strengthen the work of social missions seeking to guarantee the welfare and protection of the Venezuelan people, given the attacks of the so-called economic war staged by sectors of the opposition along with the complicity of foreign powers and international financial groups.