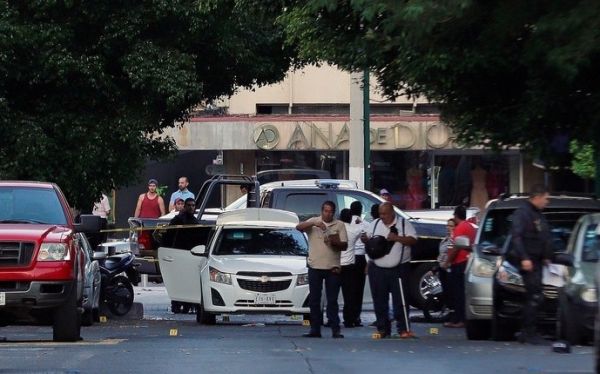 A high-ranking state official and 13 other people were wounded in an attack staged by gunmen in the western Mexican state of Jalisco, state prosecutors said
Jalisco Labor Secretary Luis Carlos Najera, who once served as the state's attorney general, was slightly wounded in the hand during Monday's attack.
'I was out of the country for a while and I just returned. There were no threats, there was nothing prior to this,' Najera said in a press conference.
A group of between 15 and 20 gunmen attacked Najera as he left a restaurant in Guadalajara, the capital of Jalisco.
Police arrested six of the suspected gunmen following the attack on Najera and his security detail.
The former state AG said he spotted two suspicious men outside the restaurant, where he was attending a meeting, and told his bodyguards to bring his armored SUV to the front of the restaurant to block the entrance.
The security detail and two state police officers assigned to the restaurant engaged the gunmen in a shootout, leaving four bystanders and three bodyguards wounded, Najera said.
Jalisco Gov. Aristoteles Sandoval said police launched an operation after the attack, leading to the capture of six gunmen in possession of a 'large arsenal.'
The suspects told investigators that they belong to the Jalisco Nueva Generacion drug cartel, a criminal organization that operates in 'this and 20 (other) states in the country,' making it Mexico's most dangerous organized-crime group, Sandoval said.