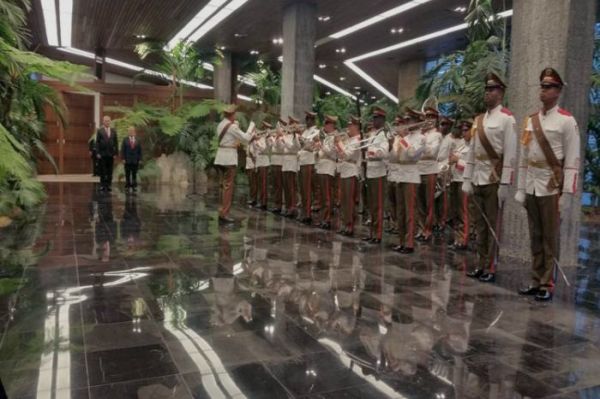 Cuban President Miguel Diaz-Canel received on Thursday his Salvadoran counterpart, Salvador Sanchez Ceren, who is on an official five-day visit to the island
After the reception ceremony at the Palace of the Revolution, both leaders met to discuss the state of bilateral relations, as well as the situation in the region.
Previously, the Salvadoran President laid a wreath to the Cuban National Hero, Jose Marti, in the Memorial that bears his name located in this capital.
According to the program, Sanchez Ceren will visit the Santa Ifigenia cemetery in the eastern city of Santiago de Cuba tomorrow to pay tribute to the historic leader of the Cuban Revolution, Fidel Castro.
He will also visit the former Moncada Barracks turned since 1960 into the 26 of Julio School Center.
Diplomatic relations between Cuba and El Salvador were restored in June 2009 after the arrival of the Farabundo Marti National Liberation Front.
Since then, both nations strengthen cooperation in areas such as health, education, culture, agriculture and the environment.