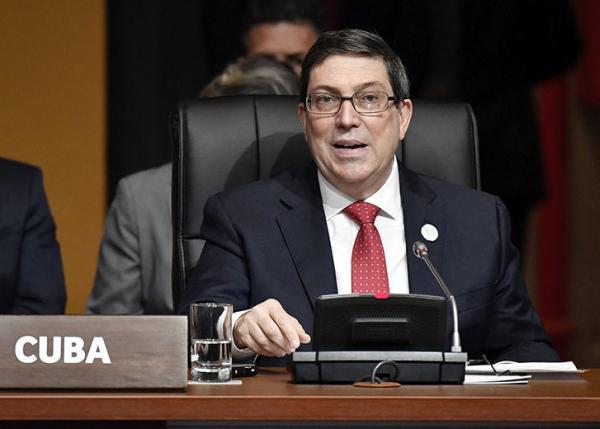 Cuban Foreign Minister Bruno Rodriguez stressed that the  changes that President Raul Castro claimed for in the previous regional summit in Panama have not taken place
Cuban Foreign Minister, Bruno Rodriguez, warned on Saturday at the Summit of the Americas in Lima, Peru, there exists the danger of a return to the use of force in Latin America due to the aggressive policies the US is currently pursuing and the rise of the right in some countries in the region.
Addressing the plenary session of the 8th Summit of the Americas, Rodriguez cautioned over a tendency of indiscriminately imposing coercive unilateral measures, including coup d'état.
He urged not to underestimate what he defined as 'the seriousness entailed in the arbitrary and unjust statement against Venezuela, cradle of the Latin American independence and second in oil and gas reserves, as an unusual and extraordinary threat to the national security of a super power.'
The Cuban Foreign Minister spoke of the hostile actions against Caracas and his own nation, stressing that the profound changes in hemispheric relations Cuba's President Raul Castro claimed for in the previous regional summit in Panama (2015) have not taken place.
The US authorities —he added— invoked today the Monroe Doctrine (1823) to exert domination and hegemony over Latin American nations.
He cautioned the fight against corruption is being used as a political weapon, prosecutors and judges act as parties, the electorate is deprived of voting for candidates with broad popular support, as it is the case of 'former president and today political prisoner Luiz Inacio Lula Da Silva, whose liberty we demand.'
Rodriguez regretted there are no ethical limits in electoral campaigning, hatred, division, egoism, slandering, racism, xenophobia and deceit prevails, neofascist trends thrive, walls, border closure and massive deportations including children born in the USA are promised.
Furthermore, the hemisphere is witnessing a rise in massive flagrant violations of human, civil, political, social, cultural and economic rights of millions of people who do not speak at nor attend these summits, he said before questioning: 'What kind of democracy are we talking about here?'