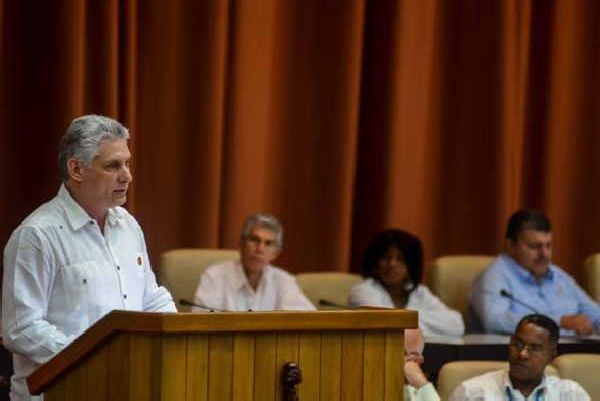 The draft of the new Constitution contains changes in the structure of the State, including the creation of the posts of president, vice president and prime minister
The National Assembly of the People's Power (Parliament) called on Cubans to express their criteria on the Draft Constitution that would replace the carta magna in force since 1976 with a document according to the transformations under way in the country.
Gathered at the first plenary session of the 9th Legislature (2018-2023) at Havana's Conference Center on Sunday, the lawmakers agreed on holding a popular consultation from August 13 to November 15, after which the text would return to Parliament.
Enriched by the opinions of Cubans, the Draft Constitution would be shaped at the National Assembly before being submitted to a referendum for its approval or not.
When speaking at the closing of the first ordinary session of the 9th Legislature on Sunday, Cuban President Miguel Diaz-Canel noted the importance of the consultation, as it is an 'exercise of direct participation by the people' and 'will acquire more political relevance and will be another example that the Revolution is based on the most genuine democracy'.
Every Cuban will be able to express their opinions freely and contribute to achieving a constitutional text that will show the today and future of the Homeland, the president noted.
The draft of the new Constitution ratifies Cuba's socialist nature and contains changes in the structure of the State, including the creation of the posts of president and vice president of the Republic and prime minister to replace the current president of the Councils of State and Ministers.
It also expands people's rights by including matters like the guarantees of due process, habeas corpus, the presumption of innocence and the social reinsertion of prisoners.
It also includes several forms of ownership, including socialist property of the entire people, mixed and private properties, and changes in the institution of marriage, as it defines it as the union of two persons, while the current Constitution establishes the voluntary and agreed union between a man and a woman.
The proposal on the modification of the institution of marriage was one of the most debated here and perhaps the most reported one internationally.