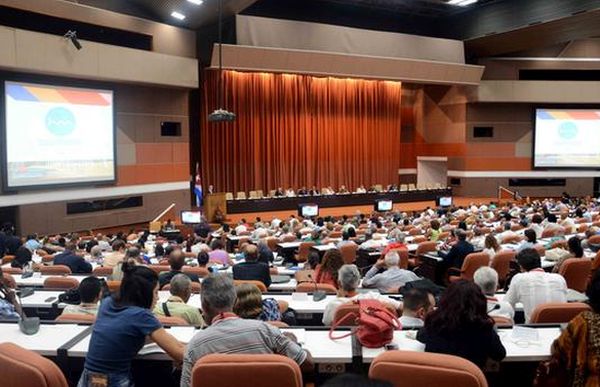 The third edition of Cuba Industria opens today under three guidelines focused on the development of strategic sectors, sustainable industry, and foreign investment
Promoting productive chains, using new materials from renewable energy sources, exports replacement and fostering ties with universities are also priorities of the Convention and International Exhibition of Cuban Industry, Cuba Industria 2018, to be run until June 22.
The event, with an extensive program, will be held at the Conference Center and Pabexpo fairground, both in Havana, where an associated exhibition will be held in parallel.
According to the organizers, about 11 associated congresses, an investment forum, five roundtables and exchange panels are part of the agenda.
One of the objectives of the congresses will be to express clearly and precisely the projection of the industrial development for the coming years.
Those Congresses are the 3rd Congress of Industrial Maintenance, the 15th International Congress of Recycling, the 3rd Congress of Packaging, the 18th Congress on Metallurgical Industry, the 3rd Congress of Metalworking, the 3rd Congress of Management of the Quality and Environmental Protection and the 3rd Congress of the Chemical Industry.
The 3rd Congress of Electronics and Automation; the 3rd Congress of the Fashion, Furniture, Environments and Styles Industry; the 3rd Congress of Technological Management and Organizational Innovation; the 6th Congress of International Refrigeration, Air Conditioning and Renewable Energy; and the 2nd Congress of Design Forum, will be held parallel to them.
The exhibition will have representations on recycling, packaging, metallurgy, metalworking, electronics and automation; as well as renewable energy sources, medical equipment, chemistry, light industry and professional services.
Under the slogan 'On the path of sustainable industrial development', Cuba Industria will be a favorable scenario for technical scientific exchange, strengthening technological associations between national and foreign industries, promoting exportable lines and strengthening national productions.
The participation of 31 countries is so far expected in this edition of Cuba Industria, among them, Spain, Italy, China, Russia and Germany.